Categories:
This week we have taken part in: Engineer Interview
Richard has been part of our team for nearly 4 years and we are very proud of his progress not just within our company but with his education.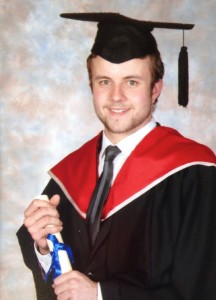 Richard Newby
Maintenance Engineer
What is your formal qualification?
BSc (Honours) Electrical and Electronic Engineering
How long did it take you to complete?
3 years part time
How does your qualification help you carry out your duties within your role as Maintenance Engineer?
Due to having such a large understanding of electrical principles and systems now, faultfinding time is reduced massively. Due to being able to locate faults with more accuracy, more exact faults can therefore be identified, leading to reductions in replacement component costs too.
Has working at Aim to Recycle helped with the relevant experience required to complete your qualification?
Hugely. Due to Aim to recycle having such a vast array of equipment with numerous different origins, it gave me a wide scope of different countries standards and practices, especially in the electrical field. This often lead to modernisation and rewiring work to ensure all equipment was up to modern UK standards before we began operating it.
Do you feel you have received adequate support from Aim to Recycle whilst completing your qualification?
Yes.  I was regularly granted one day per week leave from Aim to recycle so I could attend University. They also gave me a budget to allow me to purchase components and materials for my various assignments, projects and dissertation.
What do you enjoy about working at Aim to Recycle?
I enjoy the freedom and responsibility of working at Aim to Recycle. It's rare to find someone so young with so much responsibility within a company in my experience, which shows the amount of trust Aim to Recycle put into me. My job here goes far beyond the usual roles of a maintenance engineer, as we do a lot of modifications and alterations to our equipment to ensure they are optimal for our applications. In many cases, this leads to equipment that has very little ties to its original manufacturer's form, but is more efficient, both in energy and labour, than any standard offering from equipment manufacturers. This allows me to branch out into a vast array of different advanced engineering disciplines. We have done CAD design and CAM machining, CAD stress analysis on hydraulic cylinders and frame work, complete machine reprogramming and PLC replacements. Last year I designed and built condition monitoring systems to fit to our shredder/granulator lines to allow fully automated operation, reducing manpower and increasing efficiency by running the equipment at maximum capacity without the risk of damage. Going from a specification provided by my manager to an electrical drawing to a fully working and very effective system was very enjoyable for me.
What opportunities have you created for your future by completing this qualification?
My long term goal is emigration to the USA, by allowing me to gain this qualification, Aim to Recycle have given me the first foothold towards that goal. Gaining a degree not only eases the process of securing a job there, but also provides me with valuable points in my visa application.
What is your favourite thing about working as an Engineer?
Whilst in school, physics was always my favourite subject. I was fascinated by how the world worked. The only problem I found was that I struggled to be academic; I learnt and enjoyed it considerably more when I was doing it with my hands, not reading it in a book. The widely accepted brief definition of engineering is "Applying science." A subject in which I can study the workings of the world, then go out and apply that knowledge and see it come into action is  something that still amazes me. Scientists may do the majority of the theory that allows the human race to progress, but it's always engineers that are the link between the discovery and the technically possible application.